SOUNDS

| | |
| --- | --- |
| | This is a picture of a poster that was glued to the wall of Brownies in New York City where Mono Puff performed on Oct. 3, 1997. A special thanks goes out to Robert Plass who removed the poster and got John Flansburgh to sign it, making it that much cooler! |
Back when Mono Puff was just starting up, they sent postcards to some TMBG fan club members, mostly in the U.S.A. to promote the release of "Unsupervised". This is what one of those postcards looks like from front to back, and a special thanks goes out to Michael Rose for letting me scan it, and to Dallas Verdugo for sending the postcard to Mike in the first place.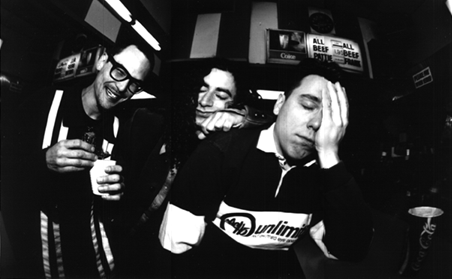 Touring is a tough business and the Puffers have to catch some shut-eye any chance they get...except for Steve. Just give him a cup of coffee and a donut and he's happy.
| | |
| --- | --- |
| When They Might Be Giants played Toronto's Lee's Palace in October 1997, Mono Puff bassist Hal Cragin was with them. After the show, Hal was kind enough to sign a copy of Mono Puff: The Hal Cragin Years as well as the cover of the It's Fun To Steal demo tape, and expressed great surprise at the existence of both. Upon seeing the Hal Cragin Years EP, he exclaimed "Even I don't have one of those!" | |

Although John Flansburgh didn't come out after the show, his tour manager got him to sign the back of the It's Fun To Steal demo tape cover from backstage. This was before Mono Puff had hooked up with Bar/None as their new label, which is what Flans meant by "still working on finding a proper home for the Puffers"

This ad for It's Fun To Steal appeared in the June 22 issue of the trade version of CMJ magazine. Special thanks go out to Amanda Nichols who was kind enough to scan and email this ad to me.
Soon, there will be many more pictures here...soon. For now, try TDK's Mono Puff page