UNSUPERVISED



Image from Rykodisc page

Lead guitars and harmony vocals Mike Viola
Guitar on Heart and Right Jay Sherman-Godfrey Voice on Distant Elina L÷wensohn
Trumpet on Spaceman and Kildare Jim O'Connor
Bass on Hello and right Erik Sanko
Drum loop on Careless Yuval Gabay
Drum loop on Kildare break Mo' Funky Element
Distant Hammond Mike V., Mockingbird Hammond Hal C.
Melotron samples on Careless and Mankind Ammonia D
Vocal on Right Nancy Lynn Howell
This is Mono Puff's first full-length album, originally released in 1996 through John Flansburgh's Hello CD of the Month Club, before being released to the general public on the Rykodisc label. The albums runs just over 30 minutes and features 13 songs. It was produced by Pat Dillett, except for "Hello Hello", which was produced by Joshua Fried. Five of these songs - "Unsupervised, I Hit My Head", "What Bothers The Spaceman?", "Dr. Kildare", "So Long, Mockingbird", and "Nixon's The One" - originally appeared as early versions on a demo disc that was released in the 1995 Hello year. Lyrically, the songs are identical, except for "Unsupervised, I Hit My Head", which is lacking the second verse on the demo. But musically, there is quite a bit of difference between the earlier versions of the demo disc, and their newly re-recorded counterparts. "So Long, Mockingbird", for example, originally appeared as an a cappella number, but instrumentation was added for the album, and "Dr. Kildare" was lengthened, and given a ska feel by adding a ska sample that Flans found.

Some songs on "Unsupervised" got their start in other places. "Hello Hello" was originally recorded in the early 70s, by Glam-rock artist Gary Glitter, and was covered once before by Flans when Mono Puff was Hello The Band, back in 1993. "Don't I Have The Right?" began as part of They Might Be Giants' Dial-A-Song repertoire sung by Flans, but appears on this album performed by Nancy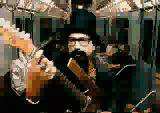 Lynn Howell, a former member of Flat Old World. Romanian actress Elina L÷wensohn provided the lyrics for "Distant Antenna" but during Mono Puff's tour in 1996, the lyrics were done by a lucky audience member who would be pulled up on stage. "Dr. Kildare" was originally a theme for a 1970s TV show, until it was appropriated by Mono Puff. "The Devil Went Down To Newport" is a cover of the Clamdiggers song, and is often confused with the Charlie Daniels Band song "The Devil Went Down To Georgia". A video for "The Devil Went Down To Newport" was filmed in New York in 1996, and received relatively good airplay on MTV. And yes, that really is Flans in the video wearing the beard and top-hat.
The photography for the CD cover and insert was done by Rolf Conant, who as you may or may not know is actually John Flansburgh, whose middle name is Conant. The CD insert folds out to reveal, on one side, the lyrics to "Distant Antenna" in a progressively decreasing font size, on a purple background with a pink radio in the corner, and on the other side, a picture of an antenna with the credits for the record in circular text, along with a photograph of some non-descript buildings.
More information about the album and individual tracks, as well as the lyrics to the songs can be found in the Mono Puff Libretto that was sent out to lucky Hello CD of the Month Club subscribers.
Tracks:
Guitar Was The Case
Unsupervised, I Hit My Head
Don't Break The Heart
Distant Antenna
The Devil Went Down To Newport (Totally Rocking)
What Bothers The Spaceman?
Hello Hello - produced by Joshua Fried
Dr. Kildare
So Long, Mockingbird
Careless Santa
Don't I Have The Right - featuring Nancy Lynn Howell
To Serve Mankind
Nixon's The One